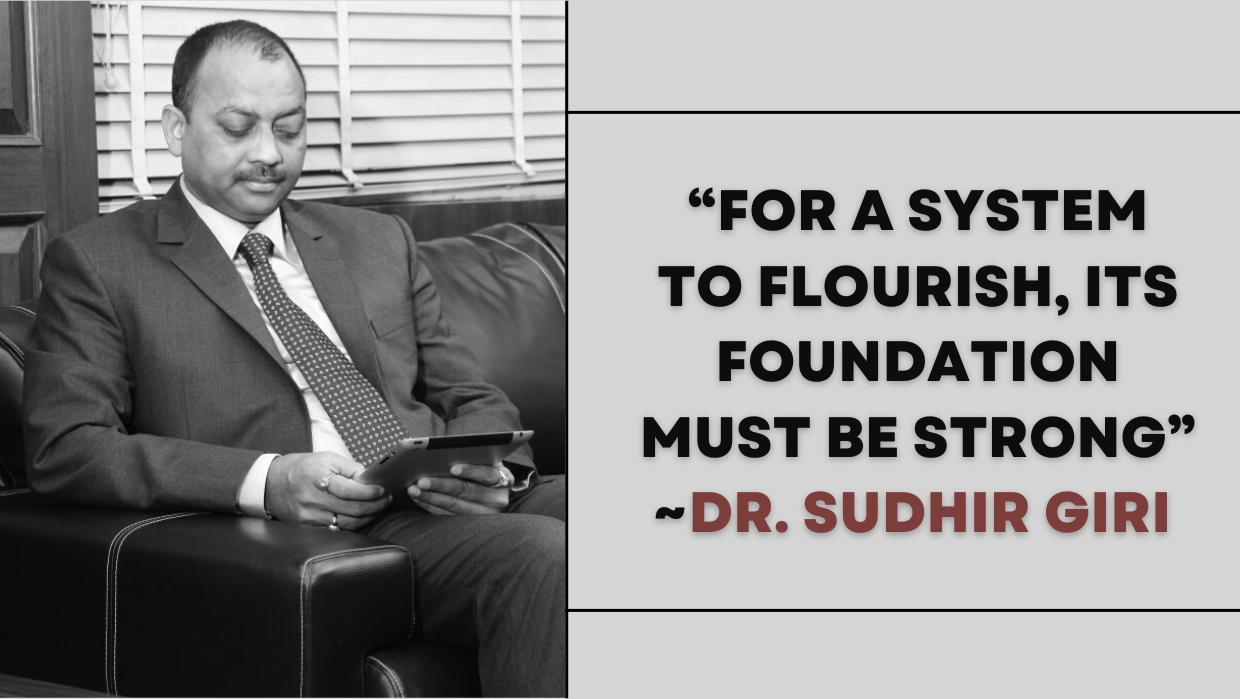 SIGNIFICANCE OF PRIMARY EDUCATION IN THE DEVELOPMENT OF A CHILD'S FUTURE
"For a system to flourish, its foundation must be strong"~Dr. Sudhir Giri
India is an emerging superpower and the biggest credit for that goes to the strong industrial and economic growth in recent times. But, is economic development possible without proper education? The answer is definitely "no".Without an excellent education system, the progress of a nation is next to impossible.If we talk about education, most of the leaders and pioneers in the country suggest the government must make reforms and introduce policies in the higher education sector.
Dr. Sudhir Giri, the honorable Chairman of Venkateshwara Group of Institutions, manages many other educational institutes, universities, medical colleges, and schools, has a different take on this.
Even though Dr. Giri promotes and focuses on higher education and research, he also believes that a system can only flourish when its foundation is strong. Primary education is the very base of a child's future.It is the fundamental right of every kid, irrespective of their background or social status of their family.
As a step towards the progression and betterment of primary and secondary education in India, Dr. Giri has successfully established the "Venkateshwara World School".
Many branches of this school are working towards the advancement of primary education. These schools also impart education to children with special needs. They work with the aim and commitment to providing a pleasant and inspiring learning experience to underprivileged children, & facilitate to realize their full potential.
The Schools emphasize academic excellence and the overall development of children by offering a combination of curricular and extra-curricular elements.
We established these schools with a mission to provide a learning experience that makes every child happy and a whole person. It is a place where children learn new skills that are important for building confidence and facing challenges, exploring infinite possibilities, and shining as complete individuals.
Through good primary education, children's social, intellectual, enthusiastic, and actual abilities can be fostered. Primary education is one of the most essential rights of every kid. The significant aim of primary education is to bring mindfulness among kids, open roads of chances alongside self-development, and diminish generational poverty.
Primary education, without a doubt, is essential for development in the initial stages of child growth. To match paces with the competitive world, we prepare minors from the beginning of their lives.From the tender age of four or five years, the kids learn how to connect with fellow members at school and home. They learn values like sharing, teamwork, cooperation, dependability, creativity, and communication. The role of primary education is to assure that the kids are developing.
We know Dr. Sudhir for his noble and philanthropic pursuits, be it in the domain of education or healthcare.The primary school "Venkateshwara World School" set up under the leadership of Dr. Sudhir Giri imparts education to hundreds of children, not just from the higher society but also from the weaker sectors and also to children with special needs.
Sir's mission of "affordable education for all" is not merely limited to higher education. He has been working from the grassroot level, ensuring that children have a secure and productive future. There are many challenges that the education system has to overcome in a developing nation like India.As per stats, there are approximately 14, 94,052 Primary schools in India, this includes private and government schools.
An article stated India has 3 times more primary schools than China, however, despite such promising stats, the literacy rate of India is not high. The major reason behind it is the lack of education in the grown-up populace. A major factor is a lack of quality education being provided at these schools. The 2011 ASER stated that only 48.2% of children studying in the fifth grade can read at the second-grade level.
The number of students completing their primary education with inadequate literacy skills is shocking. Further, the biggest hurdle in primary education is an insufficient and incompetent teaching force.
If we talk numbers, then the teacher ratio in Indian primary schools is declining at a startling rate.As per the Ministry of Education, the pupil-teacher ratio in primary schools was at 43 in 2010-11 and has come down to 26.3 in 2020- 21. There are only a handful of schools with the requisite number of teachers with adequate qualifications and motivation to impart knowledge.
In a majority of schools, the teaching methodologies are not up to the mark, there is a lack of motivation and absenteeism, linguistic diversity, etc. With these issues in mind, Dr. Giri entered the field of Teacher's Training (B.Ed), to address the shortage of qualified teachers for the advancement of primary education. He then started expanding his domains by opening many other education institutions.

Subscribe to Newsletter