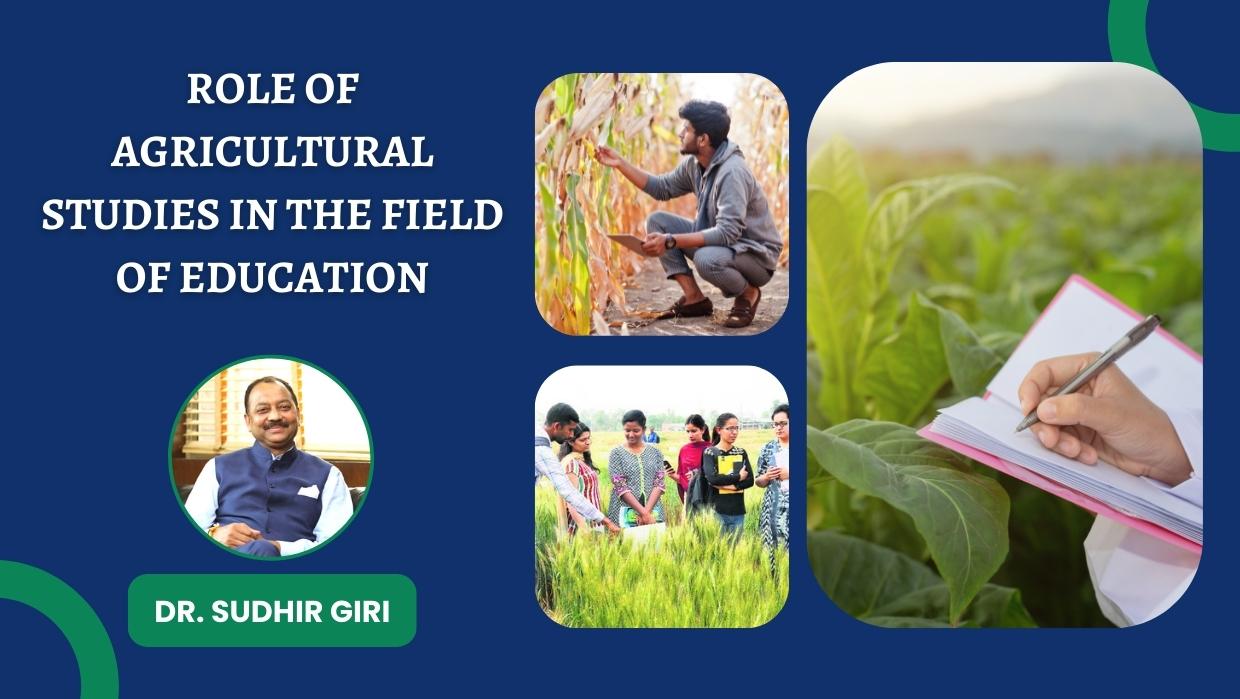 Role of agricultural studies in the field of education
For countless years, agriculture has been playing an integral role in man's day-to-day life. Humans used techniques like hunting and gathering for survival before they figured out agriculture.
Only after humans transitioned to these planned methods of sowing and reaping crops did, they prosper.Humans discovered and developed tools and techniques to increase agricultural production with more effective means of sustaining humanity. By gaining knowledge on agriculture at a young age, students can start recognizing how it impacts the world around them and also learn about other important aspects of life.
Agriculture focuses on the cycle of how things grow, live, and die. It has been providing humans with resources to survive since the beginning of time and continues to do so to date.Everyone counts on agriculture, be it for food, fiber, natural resources, or other such things.Agricultural education isn't restricted to knowledge just about farming. It also covers and includes topics that contribute to the entire world.
It plays an important role in various areas and is vital for researchers, scientists, nutritionists, educators, and people who want to be involved with the government, the environment, and many other professions.
Without good agricultural reforms, a country would have to rely on other countries for food, raw material, medicine, and many other resources that are necessary for life.This would not just be extremely expensive, but would also make a nation dependent.
Agriculture provides some of the most essential commodities like fruits and vegetables, animal feed, Cotton, and other fibers like hemp for clothing.Natural rubber production, biofuels like biogas, etc., and Medicines and Pharmaceutical products.
Dr. Sudhir Giri, the chairman of Venkateshwara Group of Institutions, comes from an agricultural homestead and is deeply connected to his roots.He understands how major agriculture is for the progression and betterment of a country.
Shri Venkateshwara University, functioning under the leadership of Dr.Sudhir Giri, has various programs on agricultural sciences like Diploma in Agriculture Science (Agriculture), B.Sc. (Agriculture), B.Sc. (Industrial Fish & Fisheries), B.Sc. (Horticulture), M.Sc. (Agriculture), and Ph.D.
The university provides all the amenities required to study agriculture sciences like laboratories, field research facilities, etc.The university from time to time conducts many conferences and seminars on various reforms, research, innovations, and discoveries in agriculture.
Recently, a national seminar was organized at Shri Venkateshwara University on "Mrada Urvara Shakti Evam Krishi" in association with Bhartiya Kisan Sangh, Uttar Pradesh.
Agriculture education is an amalgamation of studies in the domain of science, communication, leadership, and technology.It comprises applied sciences and business management. This field also revolves around the importance of how agriculture impacts the world, how agriculture is codependent on other essential businesses that build up a strong economic and social structure, and how it fulfills the needs and requirements of modern society.
Agriculture studies also include animal husbandry, horticulture, conservation, sericulture, natural resources, forestry, production and processing of food and fiber, economics, and much more.
Careers in Agriculture form one of the largest sources of lasting employment in the world.The primary focus of these careers is on supplying food products, sustainable living, alternative energies, etc.
Agriculture is one of those industries that gives opportunities for individuals to work all over the globe. There are many lucrative career options within the field of agriculture, such as:
Botanist
BLandscaper
Agronomy
Forester
Beekeeper
Wildlife Officer
Agricultural Inspector
Endangered Species Biologist
Wildlife Inspector
Agriculture Manager
Agribusiness Manager
Above mentioned are just a few of many career options in this domain. If we talk about agriculture, the possibilities are endless.
Given the changing and advancing technology and innovations, this domain is ever-changing and always has new opportunities to offer.A majority of the Indian population falls under the rural category and most of them are engaged in farming or in any other form of agricultural practice.
Therefore, in India, the agricultural industry is important and is also a source of employment for lakhs of farmers and daily wage workers.The Indian government has made many policies and reforms to promote agricultural education so that farmers can understand and learn new techniques and ways to increase production and use the latest technology.
Knowledge of hybrid seeds, innovative ways of crop harvesting, and familiarity with various pesticides, fertilizers, and machinery have helped farmers increase their crop yields drastically.

Subscribe to Newsletter