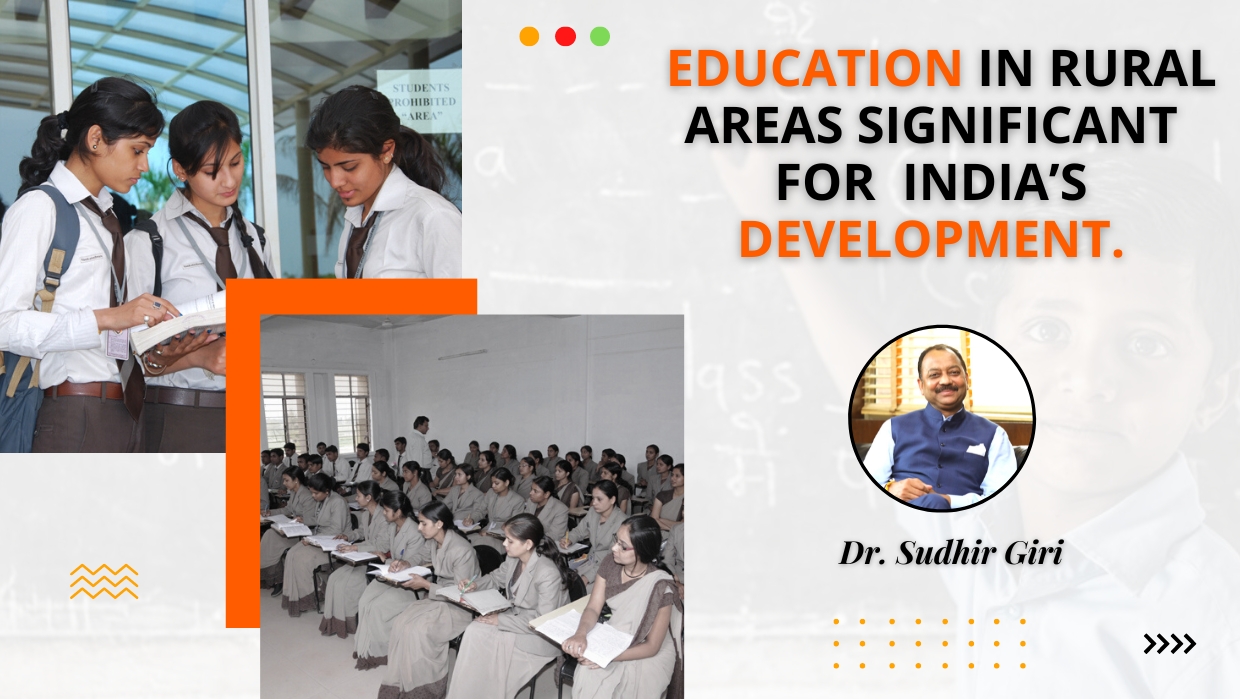 Education in Rural Areas Significant For India's Development
Rural education has become a significantly vital aspect of every economy. In India, rural education plays an even major role as the rural economy contributes to 25-30% of the country's GDP. Therefore, literacy in these parts is essential for the growth of the Indian economy. Education is important for everybody, be it learning new skills, facts, or trades.
The opportunity to learn always benefits a person as it increases employability options, & also gives knowledge about healthcare and hygiene. It helps one decipher between wrong and right and also facilitates their and their future generation's holistic growth. Many reforms and policies are there for promoting education in the developed parts and cities of India, like the metropolitan cities and nearby areas.
However, the rural communities that makeup such a huge percentage of the Indian economy need major educational promotion, reforms, and policies.
"Dr. Sudhir Giri, a business prodigy, set up Shri Venkateshwara University in the rural area of Uttar Pradesh; Gajraula with the vision to "Take Education Towards the Rural Areas".
Sir observed and keenly studies the demographics of the area. There were no good educational institutions around the area, and most of the good colleges or institutes were at a distance from the habitats of the locals.
This motivated him to set up a fully equipped university, medical college, and a hospital in the nearby range so that young adults did not have to move to urban areas for gaining higher education. Educating communities involves building schools and educating children, young adults, and even elders.
This would foster rural communities heading towards a healthier and brighter future.A strong education system in rural communities can strengthen the rural populace as it teaches them to make informed decisions about their farms and also trains them to implement technology in agricultural practices.
Education also enables individuals to learn of their fundamental rights and stay informed about various reforms, policies, and schemes made by the government for their betterment, so that they can make use of these facilities. According to a report, the number of kids who haven't attended school in India is probably over ninety million, and rural India forms an overwhelming majority of this figure.
These terribly shocking digits seem even worse when we know that school-going boys form a much higher percentage of children in rural India gaining a high-school diploma, whereas the girl child is deprived of basic education. What's even more disturbing is that more than half of the students in class 5th cannot read a textbook from class 2nd or 3rd. They barely even know how to solve elementary mathematical problems.
Some of the major problems faced by students in rural areas are:
1. Lack of quality education: First, there is a lack of colleges and universities in rural areas, even if there are, they lack quality education, and many courses are not even a part of the curriculum.These institutes don't have laboratories, libraries, or other facilities necessary for technical courses like engineering and medical sciences.
2. Scarcity of excellent teachers: Institutes set up in the lesser developed areas do not have a skilled teaching force that results in lower teaching standards.
3. Financial aspects: A majority of students belonging to rural areas are not financially very strong.Therefore, many youngsters don't even think of gaining higher education, they directly start working after finishing basic schooling. Their families find it useless to send their kids to cities, as the living expenses and exorbitant fees are impossible for them to pay.
4. Social factors: In rural areas, even to date, girls and women cannot move to urban areas to receive higher education.It is a major challenge faced by women and this results in negligible or no higher education for women living in rural areas.Apart from the above problems, there are many other hurdles that people in rural areas have to face.
The government, however, is taking various measures and making more and more policies for the promotion of proper education in India. For the betterment of rural education, we should also take these factors into consideration:
1. Good use of technology: Technology will help reduce costs in education and increase convenience. It will also help children learn computer skills, which are a vital part of primary and higher education. Schools can also impart e-learning software systems that offer an all-in-one learning experience and guarantee quality education, like the urban cities.
2. We should set up more schools:Many more schools need to be set up near rural areas, as a major part of India comprises rural areas.Setting up excellent schools would also help parents impart excellent education to their children without having to worry about transportation costs.
3. Quality teaching force: Qualified and skilled teaching force should handle primary and higher education. Teachers should avoid absenteeism and ensure that students get a quality education without relocating to other parts of the country.
India has a huge youth population and if these youths get the correct guidance and education at the right time and age, it would facilitate the development of the nation

Subscribe to Newsletter