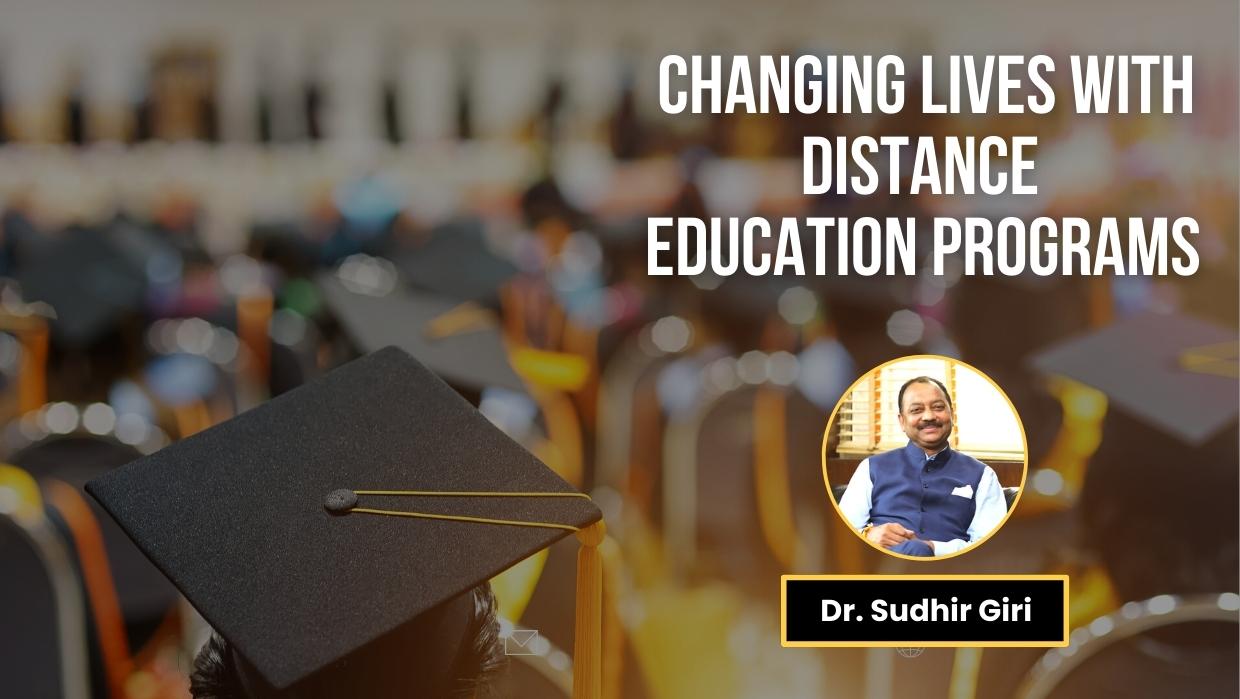 Changing Lives With Distance Education Programs
Shri Venkateshwara University, Gajraula, Uttar Pradesh, a leading name in the education world and one of the top universities in North India, offers various diplomas, undergraduate, postgraduate, and doctorate courses.
Established and led under the leadership of Dr. Sudhir Giri, a dynamic educationist, philanthropist, entrepreneur, leader, and humble human being.
The Directorate of Distance Education (DDE) offers distance education programs to candidates from every part of India. DDE offers Bachelors and Masters in Arts, Commerce, and Management.
Distance learning, also known as distance education, is a type of education in which there is a physical separation of teachers and students, and various technologies are used to enable student-teacher and student-student communication and interaction.
Sir observed and keenly studies the demographics of the area. There were no good educational institutions around the area, and most of the good colleges or institutes were at a distance from the habitats of the locals.Traditionally, distance learning was majorly focused on non-traditional students, like full-time working professionals, military personnel, and non-residents or individuals in remote regions who could not attend classroom lectures, because of their work.
However, these days, distance learning has become an integral part of the educational world, as working professionals are opting for distance learning programs in order to grow and up skill, without compromising on their work life.
Distance learning has benefitted the students and the institutions alike.
Educational institutions benefit by adding students without having to build classrooms and housing, and students reap the benefits of being able to work where and when they choose, and can also study side by side.
Modern distance learning courses make use of Web-based course-management systems that incorporate digital reading materials, podcasts (recorded sessions for electronic listening or viewing), e-mail, threaded discussion forums, chat rooms, and virtual test-taking (computer-simulated) classrooms.
Getting approvals from the UGC-DEB (University Grants Commission Distance Education Board) is compulsory for Indian universities and private colleges as it is the statutory body that regulates distance education in the country and maintains and makes the guidelines for distance education in India.
Distance learning does not include any in-person communication with a lecturer or students.Students are required to study at home on their own, and the learning is more inclined towards personal learning and differs in speed and timeline according to each student.
Distance learning actually relies on the educational tools of online learning, and that is probably why there is some confusion between the two.
It is possible to study with online distance learning as well. In that case, distance learning is a part of online learning. Given the remote model, distance education helps students connect with universities worldwide, and makes education more accessible to students on a global scale.
Along with the accessibility factor, a major benefit of distance education is that it is considerably more affordable, as even students belonging to financially weaker sections of society can afford to study at renowned universities, with the provision of distance learning programs.
There are various types of distance learning programs:
1. Online courses: Courses taught online involve no physical interaction between the education provider and the students. Lectures, assignments, and examinations everything is held online.This mode of study is perfect for working professionals, as they can study and work together.Apart from working professionals, many students, who owing to various reasons cannot attend college physically, can also benefit from online classes, they just need access to good internet.
2. Correspondence courses: In correspondence courses, the students receive class material, assignments, etc. via mail or email and they send completed assignments back through the same method.
This mode involves self-study and the students are supposed to finish their course on their own. This model is also apt for working professionals, but it can also be challenging, as they have no access to lecturers or instructors to clarify their doubts.
3. Hybrid learning: Hybrid, as the name suggests, means a fusion of traditional classroom setup with online learning at home. It means that students learn individually at home and can meet in-person for lectures and classes.
On the whole, distance education has become a very in-demand mode of education. It has many advantages that include:
It provides flexibility to both the student as well the instructor. During the pandemic, because of the distance learning model, classes were conducted successfully in schools, colleges, and universities.It also provides an easy option for students to study whenever they are feeling most productive. Unlike traditional setups, where students have to attend class at a fixed time only.
Helps students with special needs by accommodating students with physical disabilities, hearing impaired students, etc. Such students have the option to pause or rewind the lectures as per their requirements, and the ones who have a physical disability can study without having to commute to the college or institute.
Provides many options for working professionals who can easily manage their work and studies simultaneously.
Dr. Sudhir Giri has proven excellence in the realm of education, from primary to a higher level. The VGI Group has catered to all the educational needs of students, with an aim of providing quality education at affordable prices.

Subscribe to Newsletter