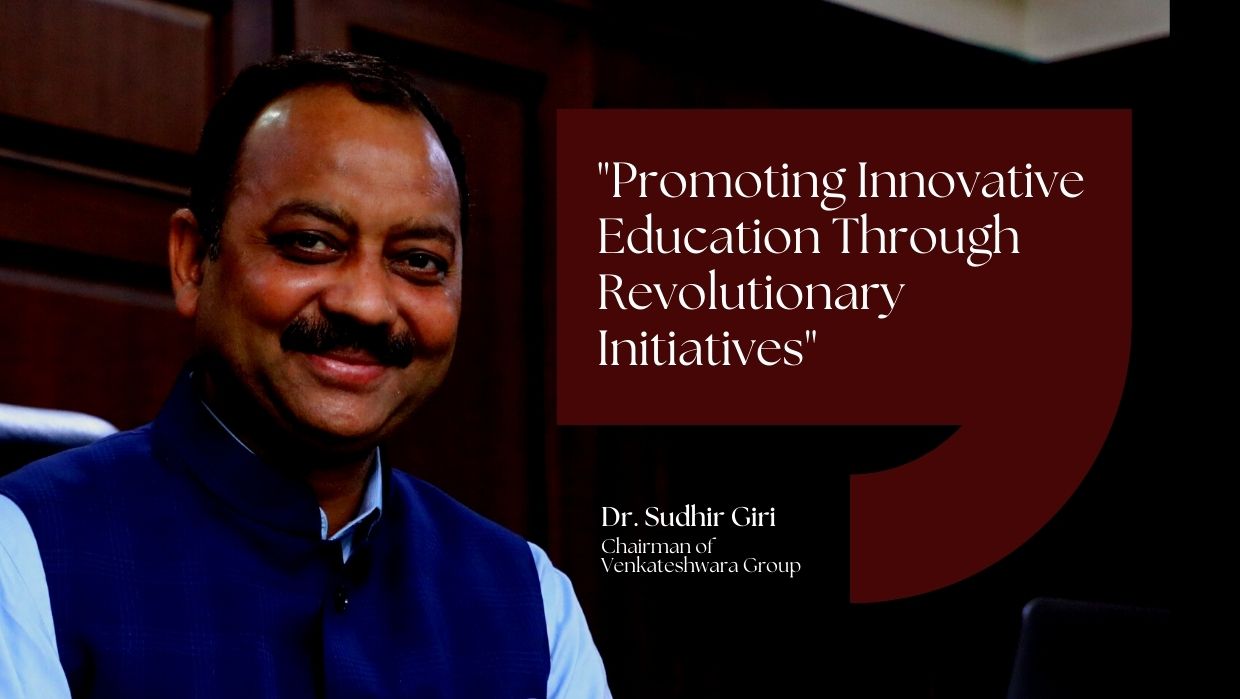 Dr Sudhir Giri – Promoting Innovative Education Through Revolutionary Initiatives
A renowned name in education, Dr Sudhir Giri nurtures affordable education & healthcare for all because they are crucial for the nation's progress.
Being an engineer, Dr Giri fully understands the challenges faced by rural youth in gaining professional education.
Dr Sudhir Giri hails from a rural background & is concerned about promoting holistic education because it makes an individual job ready. He is running over 12 education institutions, including Medical College & Universities that are an epitome of knowledge.
Because of the dedicated efforts, over 5000 patients received quality care & VIMS hospital recorded the lowest deaths in the country during the 2nd wave of Covid-19.
All this was possible because of the visionary leadership of Dr Sudhir Giri, who spearheaded the campaign & brought laurels to the country.
Dr Sudhir Giri Chairman Venkateshwara Group received the prestigious "Excellence Health care Award" for performing excellent work during Corona.
At an event organized at Ram Manohar Lohia Medical College in Lucknow, Dr Suresh Khanna UP Cabinet Minister felicitated Dr Giri with the Excellence award & a citation.
Dr Rajiv Tyagi Pro-chancellor Sri Venkateshwara University received the award on behalf of Dr Sudhir Giri.
On receiving the award, Dr Sudhir Giri stated that this is a memorable award which inspires to persevere to succor the needy.
The first week of New Year 2022 proved memorable as UP Government honored Dr Sudhir with the 'Excellence Health Care Award'.
He received the award for relentless, exemplary & dedicated service in combating COVID-19 pandemic.
Dr Suresh Khanna, along with Dr M C Prajapati DG Health, inaugurated the event by lighting a lamp to Goddess Saraswati.
The Minister stated that under the visionary leadership of Dr Sudhir Giri, the Venkateshwara Group successfully cured over 5000 patients & recorded the lowest deaths in the state. Dr Giri is a deserving recipient of this award.
We expect other Government & Private medical colleges to work in unison to defeat the third wave of Corona.
Those congratulating included the VC Dr P K Bharti, Registrar Dr Piyush Pandey, Director Dr Rakesh Yadav, Meerut Campus Director Dr Prabhat Srivastava, Director of Admission Alka Singh, Dr R N Singh, Dr Rajesh Singh, Dr Ana Brown, Pradeep Sharma, Arun Goswami, Brajpal Singh, Deepak Kumar, Vishwas Tyagi, Dr Sanjay Tiwari & the Media In charge Mr. Vishwas Rana among others.
Dr Sudhir Giri is a philanthropist, an educationist who offers skilled education because it makes the person competent & proficient.
SVU organizes regular health camps in hamlets because we care about health & wellbeing of the masses.
It reflected his commitment for providing skilled education & well equipped infrastructure created at our colleges because good infrastructure fosters innovation crucial for growth. Intel powered computing labs promote coding skills which has become basic requirement for employment in various IT companies.
We installed the labs in collaboration with industry which ensures skilled manpower availability. Well qualified faculty hired from central universities have played a crucial role in making the students' professionally efficient.
Dr Sudhir Giri is particular about the hands-on skills because they are crucial for placement. Hence, we organize internship at leading companies because it fosters practical skills vital for placement.
Because of practice oriented education, most of our students get placed after their internship as they have practical skills crucial for job.
Dr Sudhir Giri receives 'Asia Education Excellence Award 2021' for doing outstanding work in education & health.
In the presence of over 150 delegates from 16 Asian countries, Bollywood actress Amisha Patel & Chairman of Asia Chamber of Commerce, Dr Rakesh Mittal, honored Dr Giri with a memento & gold medal.
In the absence of Dr Giri, Dr Rajeev Tyagi Pro-chancellor of the university received the award.
Dr Giri dedicated this award to the entire team of educators, Doctors, Nursing & paramedical staff for their relentless efforts.
They organized the event at Radisson, a five-star hotel in Gurgaon. Dr Rakesh Mittal Chairman Asia Chamber of Commerce, Bollywood actress Ameesha Patel, inaugurated the event by lighting a lamp to Goddess Saraswati.
Mrs. Ameesha Patel commended Venkateshwara Group for adopting innovative teaching practices & saving the lives of thousands during Corona.
She highlighted Venkateshwara Group along with Sonu Sood & other voluntary organizations that treated over 6000 patients free of the cost & saved their lives.
During these odd times, the innovative education offered by Dr Giri is applaudable & worth praising. 'Dr Giri is the true recipient of this award', she said.
Dr Sudhir Giri is particular about the aspiration of the rural youth because he hails from the rural hamlets of Meerut. Lakhs of youth aspire to join the Armed forces because of the pride to serve the nation.
Majority of them cannot clear the selection tests owing to lack of coaching. Venkateshwara Group has launched the Venkateshwara Yodha Military & Police Academy (VYMPA) to train youth in defense & Security services.
We have hired the best in class mentors who will train students to ace the selection tests of the forces.
Retired Army Officers will guide on SSB interviews that are crucial for selection as Officers in the Armed forces.
SVU has its own practice field for physical training as physical endurance tests are vital for selection. GTO helps the students clear all the obstacles under the watchful eyes of the trainers with years of training experience.
The Yodha academy will revolutionize selection because we will train on scientific methods of clearing the exams. We have hired the best in class faculty with years of experience in helping students clear the exams.
Students who want to make a career in security services will be provided with a Diploma in security services & a certificate that will aid in job placement.
This endeavor will ease lakhs of youth out of unemployment because security services are highly employable.
The Work Integrated Learning Programs (WILP) enables to gain a regular degree without leaving their job because up skilling is crucial for survival.
Dr Sudhir empowers the youth by providing skilled education vital for employment in the pandemic era.
Through his philanthropic efforts, over 500000 youth have realized their professional dreams because we teach what they require in the industry.

Subscribe to Newsletter